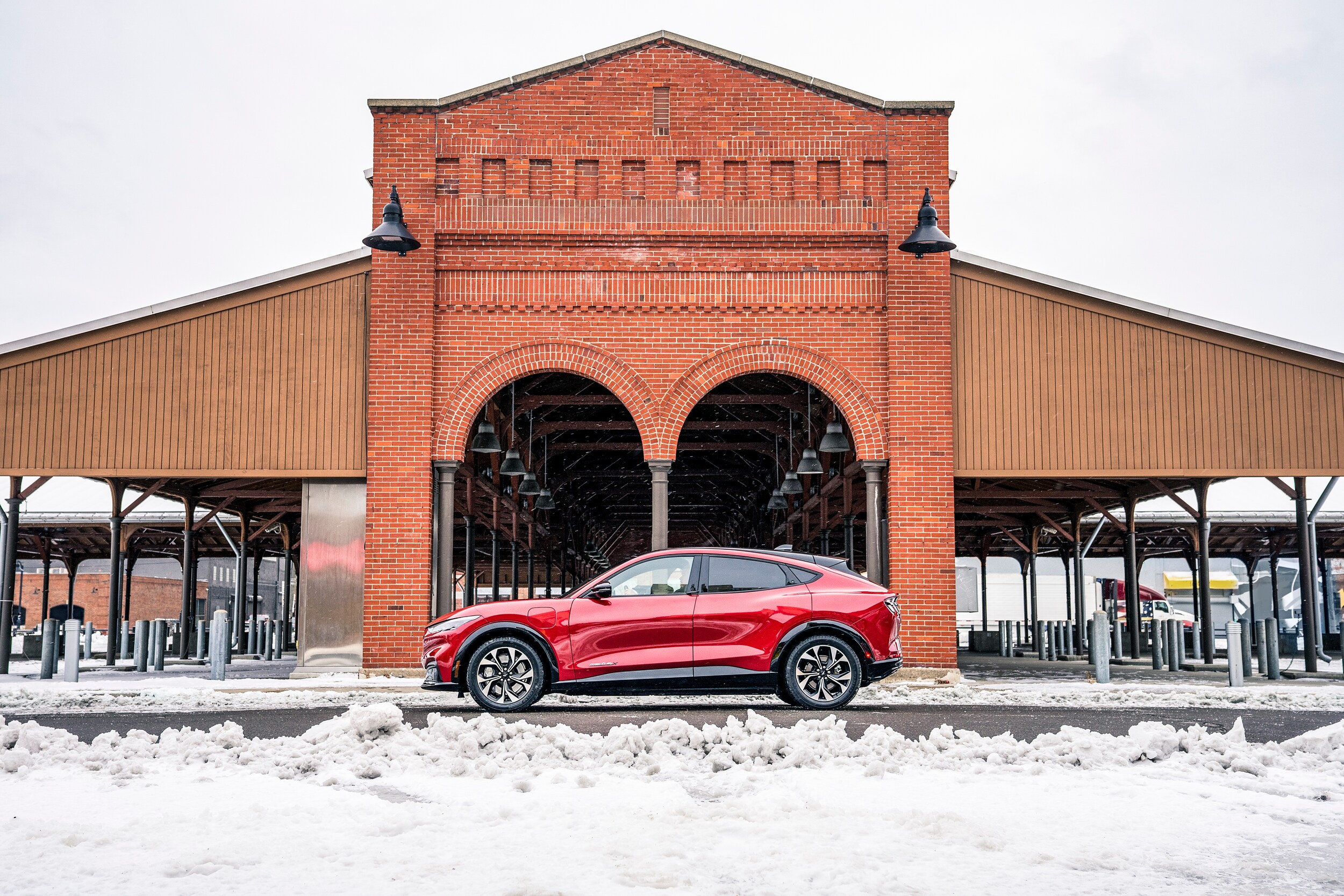 The 2021 Mustang Mach-E is an all-electric performance SUV that our team at Lebanon Ford is excited for. This new model for Ford brings you the best of everything you love about a classic Mustang and an electric vehicle! We're are now accepting pre-orders if you decide this is the new vehicle you want! Residents from Plymouth NH are encouraged to learn more about the perks of owning a new 2021 Mustang Mach-E.
What to Expect in a Mustang Mach-E
With the Ford Connected Charge Station, you can fully charge the Mach-E overnight. A mobile charger comes with the Mustang Mach-E, which still allows you to charge the SUV at home in Randolph VT in a standard 120V electrical outlet.
All-wheel drive is optional for the Mustang Mach-E but is recommended for optimal driving in New London NH.
While maintaining a sleek exterior, the Mustang Mach-E has a spacious interior. It also has a front trunk that is 4.8 cubic feet, an excellent option for luggage or grocery storage. The front trunk also is washable and has a drain to prevent water buildup.
A cutting-edge tech feature we love about the Mustang Mach-E is a driver profile and personalization. You can pre-set your ideal mirror placement, seat placement, lighting, and radio, so that when you approach the car; it automatically prepares for you.
Trims
The Mustang Mach-E comes in five models: First Edition, GT, California Route 1, Premium and Select. The First Edition has unique interior stitching, red brake calipers, and brushed aluminum pedals. As expected, GT has a performance-focused design.
Doesn't the California Route 1 make you think of road trips? The Mache-E has an extended range battery, making it a good choice for long-distance driving beyond Claremont NH. The Mach-E model also has available rear-wheel drive.
The Premium model has a mixture of luxury, performance and technology features.
As for the Select, it features standard Co-Pilot360 2.0 and Ford Co-Pilot360 Assist 2.0.
The Mustang Mach-E is a stylish electric SUV Mustang fans will love driving in Hanover, NH. It has the benefit of using electricity instead of gas as fuel so you can reduce your carbon footprint and eliminate the need for buying gas. Many drivers who switch to electric vehicles say they save money in the long run on maintenance as well!
Pre-order your 2021 March-E today with Lebanon Ford!